About Elite School of Optometry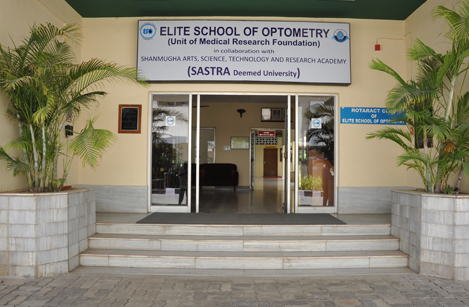 ELITE SCHOOL OF OPTOMETRY
In collaboration with SASTRA University, Thanjavur
The Elite School of Optometry, popularly known as ESO in the optometry field, is the first and leading college of optometry in India offering a four year professional degree (Bachelor of Optometry).
The college is run by Sankara Nethralaya, a tertiary eye care hospital, Chennai, in collaboration with SASTRA University, Thanjavur, India. Located at close proximity to the Anna International Airport, Chennai, ESO has a diverse student community coming from various States across the country. ESO is considered the IIT of optometry in India. The college gives its students a strong academic foundation and excellent clinical training.
Optometry is a health care profession, and optometrists are primary health care practitioners of the eye, who provide comprehensive eye and vision care, which includes:
Measuring refractive errors
Prescribing glasses, contact lenses and low vision aids
Early detection/diagnosis, management and rehabilitation of conditions of the visual system
Providing non-surgical intervention for specific binocular vision problems like squint
Optometrists offer counseling services on preventive eye and vision care and collaborate with other health disciplines including ophthalmology, neurology, internal medicine and other health sciences.
History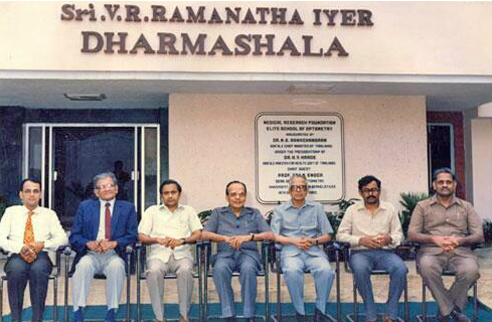 Inauguration of ESO
It was in 1985 that the great visionary and eminent ophthalmologist, Dr.S.S.Badrinath, felt that the eye care delivery system in India lacked sufficiently well qualified vision care professionals to cater to the primary eye care needs of the society. There were not enough optometrists to evaluate the status of the eye, render non-invasive diagnostic and remedial services and to scientifically deal with refractive errors, and prescribe glasses and contact lenses for the same.
To fill this vacuum in the eye care delivery system, the Elite School of Optometry was started under the guidance of Prof. Jay M. Enoch, the then Dean of the School of Optometry, Berkeley and Prof. S.R. Govindarajan. Dr. Enoch sent valuable books, optometric equipments and also deputed eminent faculty members like Dr. Cooper, Dr. H.D.Singh, Dr. Grisham, Dr. Tochiura, and Dr. Mc.Gleon from Berkeley to serve as short-term teachers. During the early years, the school functioned at the Sankara Nethralaya campus and was awarding its own B.Opt degree. In 1987, the college moved to its present location at St.Thomas Mount, a huge green airy campus built on 3.17 acres.
Drs.T.S.Surendran and K. Ravishankar worked hard to make this new venture a succees. Shri. C.K.Shah of the Elite Optical Industries donated the seed money for the creation of a modern program in Optometry and also offered to build a building. The Elite School of Optometry was named after the Elite Optical Industries. ESO always fondly remembers the invaluable services rendered by Professor Vasudevan Lakshminarayanan, Dr P P Santanam, Late Dr E Vaithilingam, Late Dr(Maj.) S Srinivasan and Dr R Krishna Kumar in helping ESO achieve high levels of excellence.
The Elite school, since then, has excelled in optometric education with the guidance of its great principals and well wishers. ESO was offering its professional qualification as an off campus collaborative degree with Birla Institute of Technology and Science (BITS), Pilani,between 1994 and 2016. The research activities carried out were of great clinical value. To strengthen our research initiatives further, the Uthrash Trust funded the department of visual psychophysics, which was launched in 2008. Adding to the strength of the research wing, Dr P P Santanam, the first Principal of the college offered a herculean support through an endowment to support faculty pursuing doctorate research, occupational eye or vision related research and optometry related faculty training.
Elite School of Optometry –Sankara Nethralaya entered into collaboration with SASTRA deemed university for its academic programs in 2017. The integration of the infrastructural and intellectual strengths of these two institutions will contribute to the pool of skilled optometrists and vision scientists to the healthcare sector.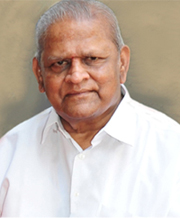 Message from Dr S S Badrinath
Chairman Emeritus
Dear Students,
First of all, my heartfelt congratulations for making it to the prestigious optometry professional degree programme offered by SASTRA university and Elite School of Optometry, Sankara Nethralaya.  I would like to remind you that you have joined the number one ophthalmic institution in teaching, training and research. With more than three decades of excellence in optometric education, the institution stands tall with the alumni of the school in top positions in India, USA and across the globe.
With the world's largest visually impaired population of about 285 million, India direly needs optometrists. You have taken the right decision by joining this primary eye care and vision science programme with 100% employability. You now have ample opportunity to serve the needy in rural and urban across all strata and gender. You will always be in high demand!
SASTRA university is internationally acclaimed for its high-quality education in engineering, technology, basic, life and social sciences. It has received innumerable accolades from all over the world for its strict adherence to character molding academic approach. My thanks to the vice-chancellor and all key members of the board of SASTRA, who have led to the collaboration between both the institutions and sustaining support
Best regards and wishes
Dr. S.S. Badrinath
Chairman Emeritus, Sankara Nethralaya

Patrons of ESO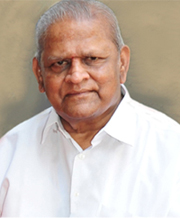 Dr S S Badrinath
Chairman Emeritus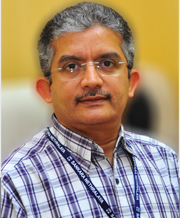 Dr Girish Shiva Rao
President
Dr Surendran T S
Vice President
Dr Vasan K S
Managing Director
Faculty
Elite School of Optometry Campus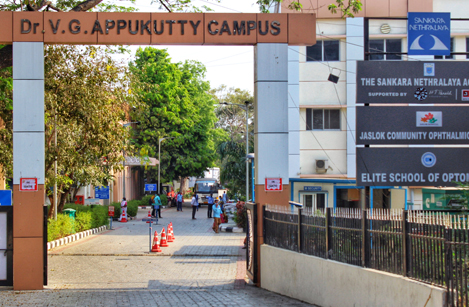 The Elite School of Optometry, located at 8, G.S.T.Road, St.Thomas Mount, is a few kilometers away from the St. Thomas Mount railway station and the Anna International airport, Chennai, India. Built in 1985, ESO and C.U.Shah Eye Hospital, units of Medical Research Foundation are in the Dr. V.G.Appukutty campus. The campus is named after Dr.V.G.Appukutty who donated the land for establishing the ESO.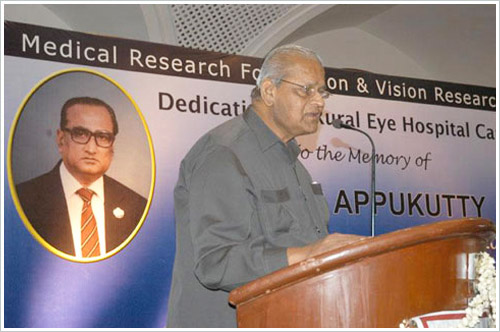 Dedication of ESO & C.U.Shah Eye Hospital Campus to the Memory of Dr. V. G. Appukutty
Facilities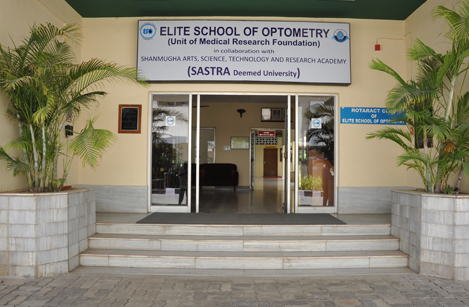 Main Building - Elite School of Optometry
The main building of ESO is situated in the cool green V.G.Appukutty campus in a vast area of 3.17 acres. This building houses all the classrooms, labs, library, seminar hall and the administrative office.
Library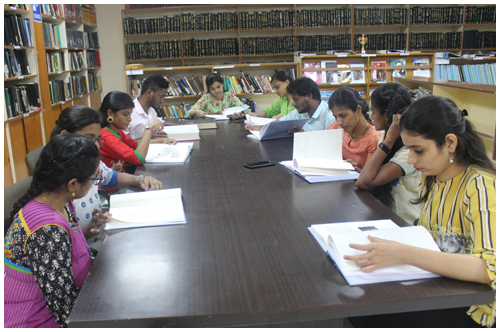 Bhagwan Adinath Jain Library donated by Mr. Sugal Chand Jain
The 1500 sq. ft ESO library owes its vast collection of 4000 books and journals to the many people who have come forward to add to its collection. Prof. Jay M Enoch offered his personal library consisting of a variety of books, reference sources and journals to the Elite School and also requested many others to contribute to the ESO library, which has the biggest optometry collection in Asia.
Working Hours

The library is kept open on all working days (Monday to Saturday) from 10:00.a.m. to 06:00.p.m. Monthly holidays are notified on the notice board.
Contact Information

Ms Jayasri S
Librarian, ESO
No.8, G.S.T.Road, St.Thomas Mount, Chennai 600 016, Tamil Nadu, India
Telephone : +91 044 2234 9269, 2234 6023, E-mail : esolibrary@snmail.org
www.eso.sankaranethralaya.org
Books List

Brochure
Academics Awards

| Name of the Award | Subject |
| --- | --- |
| Smt. Alamelu Prabhakaran Memorial Prize | English |
| Dr Sumathi Narayanan Prize | Communication |
| Srimathi Pramila Singh Memorial Prize | General Physiology |
| Sri S M Mehta Prize | Nutrition |
| Luxottica Excellence Award | Physical Optics |
| Dr (Mrs) Sundari Krishnamurthy Prize | Public Relations |
| Luxottica Excellence Award | Ocular Physiology |
| Dr S Ramaswamy Prize | Anatomy |
| Prof. S Veeraraghavan Prize | Mathematics |
| Dr Revathy Srinivasan Prize | Geometric Optics |
| Sri V R Ramanatha Iyer Memorial Prize | Optometric Optics |
| Srimathi Jayammal Prize | Optometric Instruments |
| Luxottica Excellence Award | Clinical Examination of Visual System |
| Sri V R Ramanatha Iyer Memorial Prize | Ocular Diseases |
| Sri Narayana Gupta Prize | Visual Optics |
| Dr S Narasimhan Prize | Pharmacology |
| Luxottica Excellence Award | Binocular Vision |
| Sri V Vaidyasubramaniya Iyer Memorial Prize | Contact Lens |
| Sri K Sreenivasan Prize | Glaucoma |
| Essilor Award | Dispensing Optics |
| Prof. S Veeraraghavan Prize | Bio Statistics |
| Prof S Veeraraghavan Prize | Bio Statistics |
| Luxottica Excellence Award | Epidemiology |
| Sri R Sankaranarayanan Prize | Low Vision Aids |
| Luxottica Excellence Award | Law and Optometry |
| Sri C N S Panicker Memorial Prize | Public Health and Community Optometry |
| Prof. SRG Prize | Pediatric Optometry |
| Prof SRG Prize | Pediatric Optometry |
| Dr P P Santanam Prize | Occupational Optometry |
| Luxottica Excellence Award | Geriatric Optometry |
| Dr S Srinivasan Prize | Best Project |
| Sri Sugalchand Jain Prize | Clinical Examination |
| Sri V Venugopal Memorial Prize | Best out going Student-2014 |
| Dr M M Cooper Memorial Prize | Anatomy |
| Shree Banaskantha Palanpur Jain Association Award | Community Vision Care Service |
| Mrs Shakeroon Nissa N P Jamal Award for Girl Student | Optometry Clinical Excellence Award |
| Mrs Shakeroon Nissa N P Jamal Award for Boy Student | Optometry Clinical Excellence Award |
Master of Optometry
Luxottica Excellence Award
Research Methodology
Sri R Sivaraman Memorial Endowment Prize
Best Research Project
Research Award
ESO Alumni Award
Best Publication of the year 2013-2014
Dr S Narasimhan Memorial Prize for Research
Dr P P Santatam and Jayalakshmi Award
Best Optometrist of the Year 2013
Best Student of First, Second and Third year
Sumhitha Sriram Award
Best Student of First Year
Bausch & Lomb Eye Care India Pvt Limited Prize
Best Student of Second Year
Bausch & Lomb Eye Care India Pvt Limited Prize
Best Student of Third Year
Best Faculty of the Year 2013- 2014
Dr (Maj) S Srinivasan Memorial Prize
Best Senior Faculty
Dr (Maj) S Srinivasan Memorial Prize
Best Junior Faculty
Alumni